About Studying Medicine in Ukraine
| | | |
| --- | --- | --- |
| Country: Ukraine | Tuition Fees: €3100- €5300 | Living Costs: €200- €300 |
| Courses: Medicine, Dentistry, Pharmacy | Entrance exams: Yes & No | Graduate Entry: Yes |
In the past few years, there's been an influx of international students in Ukraine. What is the reason behind this?
Studying medicine in Ukraine is an excellent option for students whose dream is to become doctors, but want the most affordable option abroad without compromising quality. There's an English programme in most medical schools here. Ukraine offers the same quality of education as countries like Bulgaria, Poland, Romania and most Eastern European countries for a lower tuition fee. The cost of living in Ukraine is also affordable, compared to states from the European Union. One of the most popular choices for European students is Dnipro Medical Institute located in the city of Dnipropetrovsk, otherwise known as Dnipro Medical Institute of Traditional and Nontraditional Medicine.
Why Choose to Study Medicine in Ukraine?
The demand for English-taught medical education in Ukraine grows larger and larger with each passing year. The top 3 reasons for studying medicine in Ukraine are:
The biggest reason is the degree you get from a Ukrainian university. Graduating from Ukraine enables you to apply for a medical practitioner anywhere in the world.
Reason number two is the fact that the better part of medical universities in Poland don't require you pass an entry exam for admission.
Last but not least, the tuition fees can be as low as €3000 per year, and living costs are around €300 per month
The Best Medical Universities in Ukraine
There's a total of 18 medical schools here, but we will spare you the time to review them all. We will give you the current top 3 medical universities in Ukraine.
1.Dnipro Medical Institute. Dnipro city is a student-city due to the high number of universities present. Cost of living here is around €300 per month. Dnipro includes two medical universities that teach in English. The medicine program is 6 years long and can be shortened depending on previous qualifications. There's no entry exam which significantly facilitates your admission.
The qualification earned afterwards is MD (Doctor of Medicine) which is Masters (MSc) equivalent. The faculty is focused on the specialisation of Medicine or Dentistry only. All resources and funding go towards these medical specialities to provide you with an improved quality of education. The tuition fee is €4,500 for the first year and €3,000 for each following year.
No resources are wasted on other specialities, so you know your tuition is being directly invested back into teaching you. That is why it is called an "Institute." A "university" would have a range of courses such as architecture, art, engineering, medicine and so on, however in Ukraine, the words "institute" or "academy" are meant for higher institutions offering courses in one field, Medicine & Dental Medicine. A university and institute in Ukraine grant the same Diplomas and the same level of higher education award.
The program has been established for many years and is known all over Ukraine. Many European doctors have graduated from the English medical course already, registered with the GMC and returned to work back in their home countries in Europe.
It's important to mention that Dnipro Medical Institute also offers graduate entry medical and dentistry courses, where you can skip up to 3 years of tuition based on your previous biomedical qualifications if you have any.
2. Kharkiv National Medical University is situated in Kharkiv and is one of the oldest higher educational establishments in Ukraine. Founded in 1805 by the Russian Tsar Alexander I, the university has a long and varied history spanning over 200 years. Many well-known physicians and scientists have taught at the faculty of medicine, performed operations, and have made significant scientific discoveries. The university is host to a lot of international students and teachers in present days.
An admissions exam is given in Biology and English before entry into the university. The degree is recognised in the European Union, European Economic Area and of course by the General Medical Council (GMC). The first three years are pre-clinical with an emphasis on the fundamental subjects; Anatomy, History of Medicine, Histology, Embryology, Psychology, Biological and Bio-organic Chemistry, and Biophysics for example. The next three years are clinical with a focus on surgery and preventative medicine with elective courses and practical training offered. The last year has more of an emphasis on practical work and sub-internships are offered in hospitals and clinics.
The living costs in Kharkiv are lower than those of the western countries. You can expect to pay roughly €700 per month for everything inclusive. As for tuition fees, medicine will cost you around €4,200 per year for 6 years and dentistry – around €4,700 per year for 5 years.
3. V.N. Karazin Kharkiv National University is also one of the oldest universities in Ukraine and is named after famous inventor Vasily Karazin. This university is also located in Kharkiv. Well, known physicians and scientists have taught at the faculty of medicine and have made significant scientific discoveries. Currently, the university is host to a lot of international students and teachers with the number of associate professors being high too. It has 21 schools and 124 departments that provide training for specialists in 61 majors.
V.N. Karazin Kharkiv National University currently teaches medical students in English at 14 departments of the school. The university is a popular choice for students from all over Europe, North America, Asia and Africa. The low costs, as well as the standard of education and clinical experience that the students are subject to are but a few of the reasons why many students choose to study here.
The living costs are extremely low, with rent ranging from €300-400 per month. You can expect to pay roughly €700 per month for everything inclusive. Tuition fees for the 6-year medicine course are around €4,000 per year and about €4,300 per year for dental medicine.
Karazin University is recognised worldwide for its MD degree: UNESCO, the World Health Organisation, General Medical Council in the UK, the Medical Council of Canada as well as the United States Medical Licensing Board.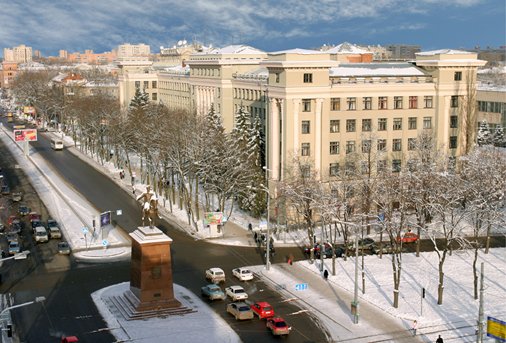 How to Apply to Study Medicine in Ukraine
You can apply online via each university's website, visit their admission offices, or with the help of Medlink Students. The application deadlines are usually early September. Choose to use our help and we will guarantee you entry into the medical school of your choice, without you lifting a finger. Even more, we will do all the paperwork for you, prepare you for any entrance exams, help you find a place to live, show you around the city, and more.
How Much Does It Cost to Study Medicine in Ukraine?
Tuition fees for medical courses in Ukraine can cost anywhere between €3100 and €5300 per year. Upon graduation, you will receive a world-recognised diploma, and you will be eligible to work as a medical practitioner anywhere in the world. The low tuition fees don't compromise the quality of education in any way.
Graduate Entry Medicine in Ukraine
​There are graduate entry programmes in Ukraine. One of the few medical universities in the country that offer 3- or 4-year graduate medicine courses is Dnipro Medical Institute. The accelerated programme is taught in the form of lectures, seminars and practical clinics at the hospitals. You have lectures in the main university building then you go to the hospital and practice what you learned. The exam structure is written, oral and practical. You will be tested on what you learned throughout the year in the format of written essay exams. Sometimes you'll be tested on what you wrote down via an oral exam with your professor. The professor will ask you questions to check that what you wrote is your knowledge. Of course, medical school also involves clinical knowledge. When it comes to clinics in the later years, you are examined by performing a diagnosis or procedure on a patient in the hospital. The regular practicals carried out immensely build up the student's confidence in clinical settings.
Enquire Now To Hear About Your Options
Study Medicine in Other European Countries