The real reason students choose to study medicine in Europe
Many students have been in your shoes. They wanted to study medicine, but the highly competitive entry requirements prevented them from following their dreams. So they went to Europe to accomplish their goals of studying medicine or dentistry. When they graduated, they became doctors and returned to their home countries as fully-fledged medical practitioners.
What is it like to Study Medicine in Europe?
The course sizes in Europe usually range from around 50-200 students depending on which university you choose. You'll typically study in small groups of about ten people for seminars, so you will get many opportunities to learn and practice your skills. The majority of medical universities in Europe contain state of the art Medical and Dental Faculties.
The university courses are reputable and recognised internationally by the World Directory of Medical Schools (WDOMS), General Medical Council (GMC) and General Dental Council (GDC). Students will graduate with an MD after studying medicine or DMD degree after studying dentistry. That allows students to move back to the UK or their home country and begin work as Junior doctors.
In the UK, students complete the 5-year Medical Degree and then have to complete two years working in the hospital – FY1 and FY2. One of the main advantages in Europe is that you carry out your first training year as part of your degree at the Medical Faculties compared to UK Faculties.
All the courses are taught in English to accommodate international students. You have so many options available; we promise to find you a university. Get in touch to explore your options, or if you'd like us to guide you on choosing the most suitable university for you.
Why Study Medicine in Europe?
You might have scored low on your entrance exam in your home country. Or perhaps you couldn't afford the inflated tuition fees universities require nowadays. Don't fret because beyond the UK (or wherever you live) lie excellent education opportunities for you to grasp in Europe.
There are countless reasons why one should consider studying medicine in Europe. It's not only about the financial side of things, nor your state's strict regulations and protocol. Europe is rich in diverse nationalities with their own cultures, but also different educational systems. So, in addition to pursuing your dream of becoming a physician, you have a perfect "excuse" to explore the world!
We are leaving the exploration part for you, and we will now outline the top reasons why you should choose to study medicine in Europe.
#1. The degree you get when you graduate from a European university is recognised by the General Medical Council, General Dental Council, World Health Organisation, and more. This automatically enables you to practice as a doctor, not just in the UK but worldwide.
#2. There are more than 40 countries in Europe and therefore hundreds of medical schools available. You will rarely see a university that doesn't have an English programme. This means that you have the complete freedom to choose your desired destination to study medicine or dentistry in.
#3. Having an abundance of options to study medicine in Europe means that there will be less competition for entry.
#4. Abroad, you can apply for an unlimited number of medical schools simultaneously while in the UK you can only apply for a maximum of 4. Should you not get accepted in any of them, you would have to wait for one year before you try again.
#5. There's no equivalent to the British UMCAT, GAMSAT, BMAT or any other irrelevant and complicated exams in Europe, so those are out of the list. You are only required to pass an entry test in Biology and Chemistry, and a simple interview to evaluate your motivation to enter the world of medicine.
#6. In many European universities, you can study medicine without having to go through the hassle of an entrance exam.
#7. Tuition fees in most European countries, especially states of the East, are significantly lower than those of the UK. For example, you can find a medical university in Ukraine which charges €3000 per year, or one that will cost you €6000 per year in Romania.
#8. The cost of living in European states is slightly lower than that of the UK, especially in countries from the East, where your living expenses will hardly ever exceed €500 – €600 per month.
#9. Overseas modern medical facilities are using top-notch technology, rich libraries, fully equipped laboratories, university hospitals and more.
#10. After graduating from a European medical university, you can skip foundation year one and jump right into FY2 because you already meet the requirements.
Browse our extensive list of medical universities in Europe. There you can find information about countries, tuition fees, living costs, curricula, and more.
Submit a FREE Non-Obligatory Enquiry Now & Speak to a Doctor about Your Options Abroad
What are the Entry Requirements for Studying Medicine in Europe?
There's a myriad of medical universities abroad and entry requirements will always vary. The most common admission requirements for studying medicine in Europe are:
High school diploma or the equivalent certificate in your country's high-school system
Satisfactory grades in Chemistry and Biology and/or Physics and Math
Entrance exams in Biology, Chemistry and English which can be taken online
A simple online interview to check your motivation for choosing medicine as your vocation
You must have a passport
Admission fees which can range from €20 to €200 and above
Some universities require entry fees upon acceptance to make sure the seat will be taken
Whether you meet these requirements or not, we can always guarantee you entry into medicine or dentistry in Europe. Contact us, tell us what you are looking for in terms of medical education and we will give you options tailored to your needs for free.
Study Medicine in Romania
Many students are flocking to study medicine in Romania due to its affordable fees, compared to other European medical universities. Many medical schools in Romania boast a fantastic reputation due to the advanced technological resources, skilled teachers and a long history of teaching medicine to foreigners in English.
Schools like the Carol Davila University of Bucharest have tuition of around €6000 per year. The Titu Maiorescu University of Bucharest offers both medicine and dentistry courses, yet has still a reasonable tuition fee of €7000 per year for EU students, and €9000 per year for non-EU students.
Bucharest is a vibrant city populated with professors at the top of their fields. Students who would like to save money tend to consider medical universities located outside the capital. Craiova city, home to Craiova Medical University, is an affordable option with an annual tuition of €5000 and lower living costs.
It also has a 5-year pharmacy program that is taught in English. Students tend to apply for admission at these three Romanian universities more frequently.
Generally, students who decide to study medicine in Romania and graduate, they will have worldwide work opportunities. Romanian doctors in the United Kingdom and globally have a reputation for having excellent clinical skills.
Study Medicine in Bulgaria
Unlike the Romanian language, the Bulgarian language doesn't contain Latin letters. It has its Cyrillic alphabet. Bulgaria is an affordable option with Medical Universities charging yearly tuition of €8000. One of the medical schools in Bulgaria, known as Varna Medical University, is situated on the Black Sea coast.
The universities in Bulgaria have continually evolved and improved medical faculties, which is one of the reasons many international students decide to study medicine in Bulgaria every year.
Admission requirements in Bulgaria are flexible; many students apply; hence it's essential to have a competitive file. A robust Biology and Chemistry test is sat by candidates, which is another strong indication of the student's academic ability.
Medlink Students helps students with the entrance test so students can gain the maximum marks. All the medical universities in Bulgaria share similar standards. Students are usually attracted to Sofia Medical University due to its rising reputation and ideal location in the capital. Varna, Sofia and Plovdiv are the main attraction for international students who go on to study medicine or dentistry in Bulgaria.
Plovdiv Medical University is ideal for those who don't mind a 1-hour ride from Sofia airport. Plovdiv does have an airport, but flights to it are not as frequent as flights to Sofia. Plovdiv is a small city, but it is one of the oldest towns in Bulgaria and offers a few malls and ancient artefacts. The advantage of studying in Plovdiv is that everything is walking distance away from you.
Pleven Medical University has a February intake only as opposed to the usually September intake at the other medical universities. Trakia University is located in the mountains of Bulgaria in a town called Stara Zagora. It is a small medical faculty in a medium-sized city that is about around 3 hours from Sofia Airport.
The living costs in Bulgaria are low, and usually, students can live comfortably at about EUR 300-400 per month.
Study Medicine in Ukraine
One of the most attractive destinations for students to study medicine or dentistry is Ukraine. Due to the very affordable tuition fees. Students pay €4,500 during their first year; after that, tuition fees decrease to €3,500 per year. The majority of western students go to Dnipro Medical Institute, situated in the city of Dnipro.
It's a student city as there are several other universities there; hence it has become a hot spot for the international community. The city is safe, beautiful and very affordable. Medical degrees in Ukraine are six years long, whereas Dentistry degrees are only five years long.
Students sometimes question whether Ukraine is safe due to what they heard in the news a few years ago. The conflicts that occurred in the past were in Crimea, the country on the border of Ukraine.
Dnipro city is very far from any disputes; it's a safe and calm city packed with an international student base. Students generally prefer to go to Dnipro Medical Institute for many reasons, especially the high population of European and British students there. The Institute also boasts a successful graduate entry medicine programme.
Study Medicine in Poland
Studying medicine in English in Poland is similar to the countries above, but it's geographically located more toward central Europe. Some of the most popular medical universities include Bialystok Medical University in Poland. The course is extremely competitive due to the high number of applicants. The MD degree is six years long and contains a lot of clinical experience.
Admission usually depends on your grades in only two of the following subjects: Biology, Chemistry, Physics, and Maths in A-levels or the final school certificate(s). Afterwards, the university will usually request to interview the candidate via Skype. The term dates are from the 1st of October till the 16th of June.
Bialystok is very accessible for international students. You can get a direct flight to Warsaw Airport in the capital, then a short coach journey or train journey to Bialystok. Halls or dormitories cost around 85 Euros per month. Other universities also teach medicine in English, such as Warsaw Medical University in the busy city of Warsaw.
A popular option for British students is Silesia Medical University in Katowice due to the higher number of UK students there. This university offers 4-year graduate entry medicine for students who hold a Bachelors degree.
On average, tuition in Poland is about €10,000-12,000 per annum.
Study Medicine in Slovakia
Pavol Jozef Šafárik University's Faculty of Medicine in Kosice, Slovakia has rapidly become a popular destination for studying medicine or dentistry in English. This is due to the high standard of teaching and the rising reputation of the medical universities in Slovakia.
This large faculty has been teaching medicine for 65 years, and channels all its comprehensive experience into training some of the world's most skilled doctors. The big city of Kosice offers a vibrant and lively lifestyle with activities for everybody. In addition to its world-renowned teaching, the university provides scientific research opportunities to enthusiastic students.
The city offers the most extensive botanic garden and zoo, lots of sightseeing areas, restaurants, busy high streets, modern malls, engaging nightlife and many more. The university locates 12-minutes from the Kosice International Airport, making it convenient and accessible.
The tuition fees for the medical course are €10,000 per year, while the dental course is about €11,000 per year. Another reason students choose to go to Slovakia is due to its very affordable living costs.
Medical Universities in the Caribbean
​They are offshore for-profit, private medical universities. They provide undergraduate medicine to students who must leave the country for postgraduate training and also typically to practice. This industry attracts many medical students who wish to return home to practice medicine. After graduation, international medical graduates can encounter challenges in obtaining residency placements and can face other barriers related to practice.
Universities follow the American education system and students go on to do their residence in US hospitals. The five-year medicine program of universities in the Caribbean region is around $250,000+. This is not an EU degree, and once you return to the UK or Europe, you must sit the registration exam to register with the local medical council. Students usually decide to study medicine abroad in Europe as it's closer and more established, rather than moving to the Caribbean.
Medical Universities in the Netherlands
The Netherlands is also another option for students who wish to study medicine in Europe. The University of Groningen offers a standard BSC degree in medical science. While this degree does not qualify you to become a doctor, obtaining it allows you to take their Masters in medicine. But the Masters is available in Dutch only, and they have very few places, meaning that you'll be competing with native students for a position.
The structure and approach to learning at Groningen is nothing like most European medical schools. Likely, you won't be able to transfer afterwards to an English-speaking medical school to complete your studies. Learning Dutch is very important for the degree, but you won't be left to learn it outside your studies on your own as you're offered some classes during your first 3 years there. Maastricht University also has a similar programme.
Study Medicine in Italy
There are a few medical universities in Italy which teach medicine in English: Bari BEMC, Bologna, Milan International Medical School, Naples – Federico II, Naples Luigi Vanvitelli (SUN), Pavia – Harvey, Rome La Sapienza and Rome Tor Vergata, Turin/Turino IMS. The University of Siena is the only university to teach Dentistry and Dental Prosthodontics in English. Nevertheless, Italy is still a popular option for students who decide to study medicine in Europe.
The tuition fees are around €4,000 per year, with some small discounts for EU students with low family income. However, their entry requirements are very complicated, and the number of applicants is much higher than the number of places available. Usually around 3500-4000 international students apply for 204 places in Italy.
Public universities are currently selecting students by using the IMAT exam (a similar international version of BMAT). The IMAT exam is fairly difficult and not easy to prepare for. The exam usually takes place in September, and the candidates' results are ranked in October.
It might be easier to achieve medical admission in private universities in Italy. However, their fees are slightly higher (€6,850-€20,000 per year), but they are also means-tested and can offer financial aid in some cases. It usually costs EU students around €10,000 per year. Private universities in Italy include Cattolica Univesity which has 20 EU places, 30 non-EU places and tuition that ranges from 7,000€-16,000€. The more popular destination is Humanitas Medical school which has a more accessible version of the IMAT for EU and non-EU students and tuition fees of about €10,000– 20,000 per year. San Raffael International University has the highest tuition at €20,000 per year.
Study Medicine in Cyprus
Near East University in North Cyprus initiated the medicine program in English in 2008 and the Dentistry program in 2007. The initial three years focus on pre-clinical education. Therefore, in the fourth and fifth years, the students are trained in clinics where group studies are carried out. The sixth-year is the internship year. Near East University ranks first in Cyprus.
An alternative medical faculty is University of Nicosia Medical School which runs a relatively young private 4-year MBBS course for a hefty tuition fee of €30,000/year. This university is fairly new to teaching medicine in English; hence it's still finding its feet on the ground. The university is currently most popular among Greek students compared to any other nationality simply because English is not a commonly spoken language in Cyprus. As the years progress, maybe the university will gain more experience and become a more suitable destination for international students.
Study Medicine in Spain
​There is a pre-med route in Valencia that offers students access to medical degrees in public and private universities which teach both in English and Spanish. It prepares the students by helping them reach the required level of the Selectividad (national school leaving certificate). It also offers them intensive language lessons. You can find some initial information regarding this opportunity on our site and more to be available soon. Generally, the available places are limited, and the tuition fees will be around €15,000/year.
Australia and New Zealand
You can study medicine abroad in Australia and New Zealand, but it is pretty expensive, and you'd have a low chance to get it. You can study medicine mostly at postgraduate level in Australia, and fees are likely to be around £40,000 a year.
Most countries in the Anglophone world lack places in their medical schools. In Australia, some universities can accept a limited number of British students. However, the cost of studying in these universities is very high, similar to that in the Caribbean.
Other Options
Eastern and Central Europe are the right places to look for admission to universities that accept international students. But there are other options in Europe and Australia for British students too. Ireland is another option, but with very high entry requirements. Opportunities exist in Romania, Bulgaria, Poland, Ukraine, Lithuania where many British students go mainly for financial reasons, quality education and security of accreditation post-graduation.
For the past 15 years, medical universities in Europe have developed a strong reputation for offering education in English. Even if the country is not well developed, the universities do offer high levels of education. Nearly 25 universities in central Europe provide medical qualifications in English.
Georgia and Armenia
Georgia and Armenia are located in Asia, near Iran and Russia. Recently, many medical schools there have popped up. They are relatively young, not as established as other countries and still getting accustomed to teaching medicine in English. A private medical institute called New Vision University in Georgia offers a 4-year accelerated medical course tailored towards graduates with a science background. Students should note that Armenia and Georgia have some recognition issues, so students should be wary about studying there for now.
4-Year Graduate Entry Medicine
Graduate entry refers to studying an undergraduate medicine course tailored to graduates with a Bachelors degree.
There are numerous accelerated routes for students who have studied science or health-related disciplines at the undergraduate level. Students are eligible to enter a fast-track graduate-entry dentistry or graduate-entry medicine course in Europe if they hold any type of higher education diploma.
These courses are usually 4-years long, and depend on previous qualifications they can even be 3-years long. The majority of students who transfer into the graduate-entry courses have studied Biomedical Sciences, nursing or any similar course.
Study Medicine Online
Despite the havoc that COVID-19 has brought to this world, we should always keep looking for alternative ways to study medicine while staying safe. That's why we introduced an online medical course for years 1 to 3 in collaboration with our partner universities. You can study pre-clinical medicine from the comfort of your home. As soon as the coronavirus has been defeated, you can continue your studies on campus.
Medical University Transfers
Several medical universities allow students to transfer their credits, meaning they continue studying from the next consecutive year at a different medical university without being held back for moving.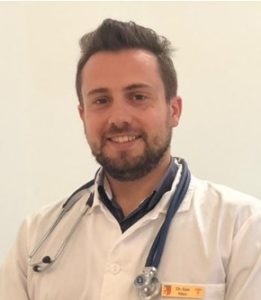 Author: Dr Sam El Mais, M.D.
A British doctor who graduated from Craiova Medical University in Romania. Sam specialised in Internal Medicine. Sam has over 6 years of experience in guiding and advising international students about their options of studying medicine abroad and in Europe. You can get in touch with Sam through the contact page or by scrolling to the enquiry form below.
Book A FREE Consultation With An Expert Advisor Now