Graduate Entry Dentistry in Europe, in English
3-Year Accelerated Dentistry Courses
Already have a medical education background? Afraid you don't have the time to invest 5 or 6 years in dentistry? We have the perfect solution for you! Get a dental degree as quickly as possible in a dentistry graduate entry programme.
That's right! This option enables you to skip up to 3 years worth of studying subjects that you've already learned before. As a graduate with degrees in biomedical-related science or a healthcare professional with a degree, you won't have to go through the trouble of an entrance exam or an interview again. How does this work? It's simpler than you think.
Depending on your qualifications, the dentistry graduate entry course allows you entry into the second, third, or fourth year of dentistry. We will equivalate your previous qualifications and hours to exempt you from the introductory years of medical school.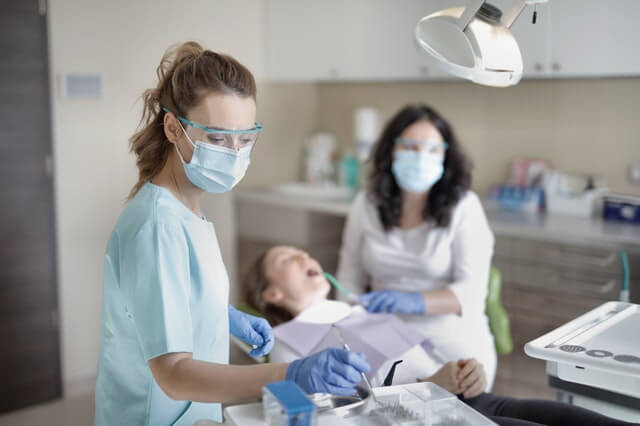 Entry Requirements: BSc Degree
Tuition Fees: from €3500/year
Course Duration: 3 or 4 Years
Graduate Entry Dentistry in Europe Entry Requirements
The entry requirement for admission into a graduate entry dentistry programme is a previous biomedical or life science degree. Your previous qualifications will prove that you are eligible to study an accelerated dentistry course and will determine how many years of dental school you can skip.
Unlike an undergraduate course, you are not required to have 3 A-Levels in scientific subjects for example. Your entry process will be much smoother because you have already done the difficult part. And to top it off, there's no entrance exam for dentistry graduate programme as well.
Why Study Graduate Entry Dentistry in Europe?
Just like graduate entry medicine, the fast-track dentistry programme will enable you to become a dental practitioner as soon as possible. Dental schools in Europe are recognised by health councils worldwide and are popular among international students looking to graduate dental medicine abroad.
European universities are also more affordable than those in the UK or USA, with more flexible entry requirements, and less competition for entry. The tuition fees for graduate dentistry programmes in Europe start from €3500 per year, which doesn't compromise the quality of education in any way.
We will guarantee your acceptance in a course where you will graduate sooner based on your previous health-related degree. We will find you the best possible graduate entry dentistry programme that will meet your needs.
Take a step closer to your desired dentist profession. All you have to do is send us a free non-obligatory application or call us on 0044 2039 813 913. A professional will be with you shortly to discuss the best option amongst prestigious European graduate entry dentistry universities.
Why Medlink Students?
Medlink Students is a British Council Certified Agency which prides itself with being the leading student recruitment company for guaranteed entry into graduate dentistry in Europe. The company was founded and is still run by doctors and medical students overseas, who have more or less been in your shoes. We know what it's like to study medicine abroad, along with everything that comes with moving to a foreign country. We are helping people like you daily to find the best offer for the most affordable price.
The Process
We recommend you get in touch with us for a free consultation. Fill in the application form below or give us a call. One of our expert advisors will be with you to discuss the best possible options for your education. We always make sure we cover every little detail because we know (from experience) that you are about to embark on a significant journey. Only the best awaits!
We suggest you put all your questions and concerns on a piece of paper beforehand, so we can give you all the information you require. Medlink Students will help you make the best decision based on your priorities and needs.
Our services are tailored towards both undergraduates and graduate students. We offer full ongoing support – from our initial call until your very graduation, and beyond. In other words, if you need help with transition abroad, accommodation, academic support, coming back to the UK to work as a doctor, and everything in between. If you'd like to transfer into another country without losing your current study progress, we can arrange that as well.
Chat with an Expert Now About Your Guaranteed Admission