About Studying Medicine in Poland
| | | |
| --- | --- | --- |
| Country: Poland | Tuition Fees: €11000 - €14000 | Living Costs: €400 - €600 |
| Courses: Medicine, Dentistry | Entrance exams: Mostly Yes | Graduate Entry: Yes |
Poland is fast becoming a popular destination for prospective students wishing to study medicine abroad. Poland is home to one of the first universities in the world. The Cracow Academy, known today as the Jagiellonian University was established by King Casimir the Great in 1364. In present days, the country. With over 650 years of higher education under its belt, Poland has trained some of the most influential doctors and dentists which has benefited science and medicine all around the world. The most notable of laureates being Marie Curie who not only received the Nobel Prize in Physics for her contributions in discovering the effects of radioactivity in medicine but was also rewarded a Nobel Prize in Chemistry as well. She is one of only four people to have received the award twice throughout its history. Other notable scientific marvels include a Polish surgical team breaking headlines in 2013 after becoming the first to accomplish a full face transplant on a patient.
In terms of the number of students enrolled in higher education, Poland is in fourth place in the EU after the United Kingdom, France and Germany respectively. With its modern infrastructure and high standard of education, it's no wonder that this country is quickly proving to be one of the best places to study medicine abroad.
Poland recently joined the European Union in 2004 and the Schengen Area in 2007 which placed it on the map as a serious option for students wishing to enrol in higher education. A medical degree received by a Polish university will ensure that it is recognised worldwide, whether it's in the UK, Europe or even the United States. The degree follows strict Polish and European standards of teaching with transferring from one medical institution to another becoming much more comfortable with the European Credit Transfer System (ECTS).
With 15 medical universities in Poland that teach in English, many international students around the world flock here to reap the benefits of the nation's education. Currently, there are more than 8,000 foreign students studying medicine in Poland. The average duration of study in Poland is 5 for a pharmacy degree and 6 years for medicine or dentistry.
The Best Medical Schools in Poland
Below is a breakdown of the top 4 medical schools in Poland by tuition fees and health-related courses taught in English:
Why Study Medicine in Poland?
Poland is a modern, dynamic, fast-developing country which is a member of the European Union.
The country ranks 21st among the world's most developed economies, where education certainly counts
All higher education institutions in Poland use the ECTS credit system (European Credit Transfer and Accumulation System) which eases international credit transfer.
You will receive a Diploma Supplement in English when you complete your studies. It will ensure your degree is recognised in your home country or abroad.
Poland's higher education system is well-developed thanks to quality monitoring, evaluation and improvement.
The better part of medical universities in Poland organise premedical courses in English
You will have access to hospitals, clinics, laboratories and libraries, so you acquire professional knowledge and skills from practitioners in different areas of medicine on-site.
Graduates can apply for residency and postgraduate training programmes at university teaching hospitals in the UK, US, Canada, Australia, Norway and Sweden.
The tuition fees and cost of living in Poland are lower than most EU countries but this does not compromise quality in any way
Poland is a safe and stable country with a rich culture and traditions, a great place to spend your student life
Study Medicine Poland Tuition Fees
Tuition fees for medical universities in Poland are usually between €7,000 and €13,000 depending on where you choose to study. Also the speciality you are after plays a role in defining the exact fee. For example, dentistry and medicine are the most expensive, you will rarely see annual prices fall below €10,000 for an English program. If pharmacy is what you'd like to study then the tuition fee is not likely to exceed €10,000.
The Best Medical Universities in Poland
1. Bialystok Medical University a public university and is one of the most highly ranked and popular medical universities in Poland, boasting a world-class medical course taught by the best professors in their fields. This medical school was established in 1950 and The English Division was founded in 2004. The Medical University of Bialystok is most popular among international students from the UK, US, Germany, Spain, and Scandinavian countries.
Here, you can study medicine in a 6-year M.D. programme and pharmacy in a 5,5-year Pharm. D. programme. Tuition fees are €11,000 per year for medicine and €7,500 for pharmacy per year. Bialystok living costs are around €400 per month. During your studies, you will participate in exceptional training programmes in university hospitals and clinics. The diploma you will get is recognised worldwide. To be admitted in this fine Polish medical school, you don't need to pass any entrance exams. You need to have good grades in Chemistry and one of the following subjects: Biology, Maths or Physics, and attend an interview online where your motivation to study medicine will be put to the test.
2. The Medical University of Warsaw is the largest medical university in Poland and is located in the country's capital – Warsaw. It's also a top-ranking modern institution with top-notch medical and research equipment and facilities. MUW was established in 1809 and it operates for more than 200 years now. It's a public medical university where thousands of students have graduated in medicine, dentistry and pharmacy.
Today, Medical University of Warsaw's programmes meet the highest international standards of medical education, based on the principles of good clinical and pharmaceutical practice. This top medical university in Poland currently teaches over 799 international students from 50 countries. The degree you get is recognised and accredited in Europe, North America, and worldwide in general. There are 3 programmes in English: medicine, 6-year M.D. programme; dentistry, 5-year D.M.D. programme; and pharmacy, 5,5-year Pharm.D. programme. Cost of living in Warsaw is €500-€600 per month. Tuition fees for the first year are €12,700 (Medicine), €15,200 (Dentistry), and €9,500 (Pharmacy). There's no entry exam apart from the English proficiency exam for students from non-English speaking countries.

3. The Medical University of Silesia, established in 1948 in Katowice, has been teaching young doctors for more than 70 years. Here you can study medicine, dentistry, pharmacy, health sciences and public health. The English Division was founded in 1996 so MUS has a lot of experience with international students. Foreigns students benefiting from the English programme are currently 551, most coming from North America, Central Europe, Asia, the Middle East and Africa.
Most notable university achievements include: Twice listed in the Academic Ranking of World Universities (ARWU), Member of Magna Charta Observatory, Participation in Oxford Summit of Leaders, and more. The Medical University of Silesia offers a well-equipped didactics base, a modern sports base, and international exchange programs. The yearly tuition fees are €11,200 for medicine, €12,000 for Dentistry, and €8,380 for pharmacy. In order to be admitted here, you would have to pass the entry exam in biology and chemistry.
One very exceptional feature this university has is the opportunity to teach accelerated medical courses, lasting for 3 or 4 years, to those who have other biomedical backgrounds. Contact us and we can determine if you qualify for this programme.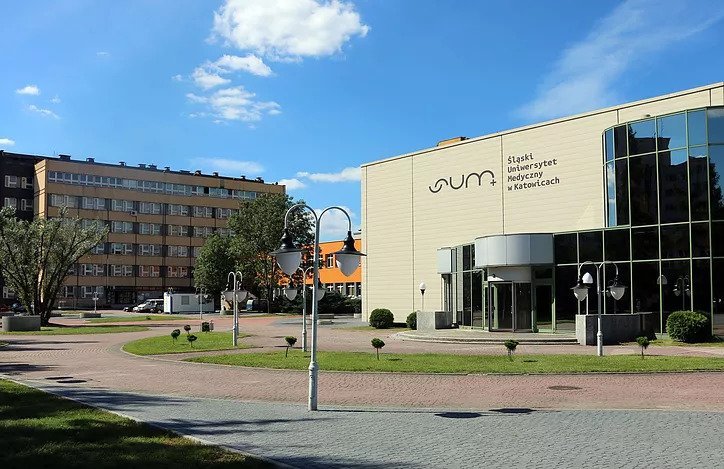 Graduate Entry Medicine in Poland
Not many universities in Europe offer graduate entry programmes. Luckily, you can study graduate entry medicine in Poland for 4 years at the Medical University of Silesia in Katowice. Biomedical life science graduates and healthcare professionals with similar academic qualifications can benefit from a fast-track medicine or accelerated medicine course. Contact us now so we can assess your documents and tell you how many years exactly can you skip.
Study Medicine in Poland in English
The M.D. program is split into two parts which occupy 6 years of study in total. The first two years are pre-clinical in nature with a sole devotion to foundation subjects such as anatomy, biochemistry, physiology, histology and embryology et al. The second part starts in your third year and ends until you graduate, whereby you are required to take clinical subjects and test your knowledge of the theory you have learned up until that point. After you have passed your examinations you are then awarded an M.D. diploma. Students who study dentistry in English in Poland will graduate with a D.M.D. diploma.
With state of the art facilities, a long history of professionals excelling in the medical field and a low barrier for entry in terms of grades and finances, Poland is definitely the place to go for studying medicine abroad!
Submit a free application to hear more about your options in Poland and Europe via Medlink Students.
Enquire Now To Hear About Your Options
Study Medicine in Other European Countries