About the European University Cyprus in Nicosia, Cyprus
| | | |
| --- | --- | --- |
| Country: Nicosia, Cyprus | Tuition Fees: €19,000 | Living Costs: €700 |
| Courses: Medicine, Dentistry | Entrance exam: No | Graduate Entry: No |
The roots of European University Cyprus can be traced back from 1961, 60 years ago. Before it even became what it is today, EUC was the first business college in Cyprus. Its founder was Ioannis Gregoriou under the name Cyprus College.
A lot has changed since European University Cyprus' inception. In 1983 Cyprus College was officially registered with the Ministry of Education and Culture, with 1000 students and 26 programs of study. The College's Diplomas, Bachelor's and Master's degrees were accredited by the Cyprus Council of Educational Accreditation in 2000. Seven years later, Cyprus College gained University status by the Republic of Cyprus Ministry of Education and Culture.
In 2014, the faculty of medicine, also known as the School of Medicine, won 2 first prizes for "Best Medical Installation" and for "Best Education Solution" in the Crestron International Awards Competition 2009 Nobel laureate in Chemistry, Biochemist Ada E. Yonath is awarded Honorary Professorship by the School of Medicine 1988 Nobel Laureate in Chemistry, Biochemist Robert Huber is awarded Honorary Professorship by the School of Medicine and joins faculty as Visiting Professor.
In 2015, European University Cyprus was granted the highest distinction of 5 stars in Teaching, Facilities, Inclusiveness, Student Support, Social Responsibility and Internationalisation by QS Top Universities. 2 years later, EUC launched the first dentistry programme in Cyprus.
In 2020, European University Cyprus was ranked among the world's top 101+ universities in the Times Higher Education University Impact Rankings in two key sectors: Innovation, Industry and Infrastructure and Actions on Climate Change. Also, the program "Doctor of Medicine" of the School of Medicine was fully accredited through the process of the World Federation of Medical Education (WFME).
There's no graduate entry programme here but students transfers are accepted.
The university address is Diogenis Str 6 Nicosia CY, 2404, Cyprus.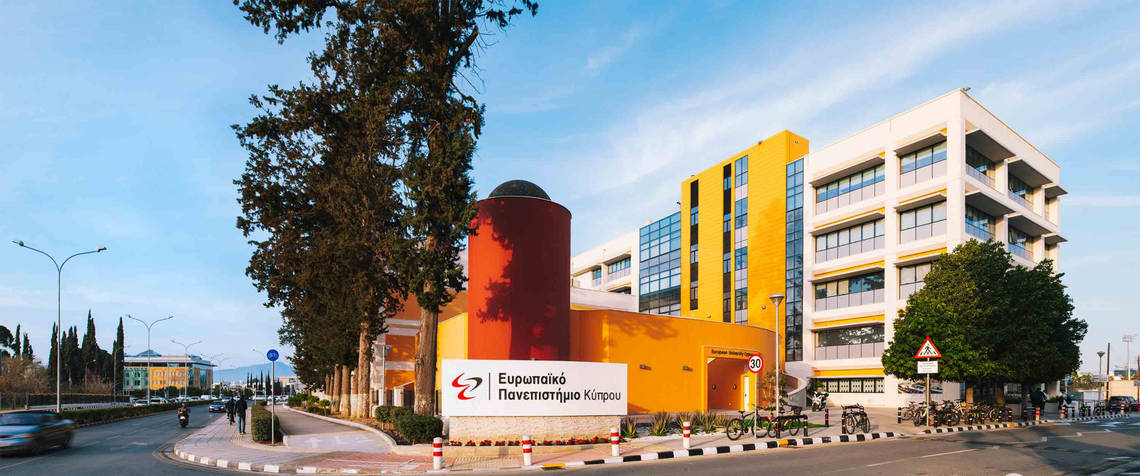 European University Cyprus Medicine Tuition Fees
EUC offers international students a 6-year medical course and a 5-year dentistry course, both of them in English. Tuition fees are €19,000 per year for both specialities. At the moment, the university offers a 5% discount to students who pay the whole amount of fees before the commencement of the programme.
Student Accommodation
The university offers student accommodation in its "Unihalls Trinity" dormitories, located not far from the campus. The complex has a total capacity of 228 beds in modern and properly equipped studios and one-bedroom flats. Rooms are fully furnished with large wardrobes, kitchens, en-suite bathrooms and balconies to enjoy the fascinating city view. The weekly rent ranges from €117 to €144 (utilities included) depending on the type of flat.
For different social and sports activities, European University Cyprus offers a cafeteria and a fitness centre. Other convenient services include laundry rooms with washing machines and dryers, high-speed internet, car parking, bike storage, and an arrival package with essential housewares.
If in any case you couldn't secure a room in the dormitories, you can either get assistance from the university in finding a place to live, or Medlink Students can take care of this for you. Monthly rent in Nicosia averages between €450 – €550 per month for a single-bedroom apartment. Other living expenses like utilities, food, free time activities will cost you around €700 – €800 per month.
Admission & Entry Requirements for European University of Cyprus
The general admission requirement for the program is the successful completion of secondary education, GCE A' Level, IB etc. with an average grade of 18 or above (90% grade or its equivalent). In addition, you need to have passed Biology plus one more course: Chemistry, Mathematics or Physics. Plus, English language certificate (e.g. GCSE or IGCSE in English or IELTS or TOEFL or other equivalent English examination). You can apply online or in the university's admissions office. The application fee is €52.
At Medlink Students, we specialise in guaranteeing medical school admission in Cyprus for international students such as yourself. We provide services which are tailored to ease your entry into university, such as document processing, full ongoing support during your entire education period, and help you find work as a doctor in Europe or the UK.
Speak to a Graduate From European University Cyprus Now
University Term Dates
Fall semester starts late-September and ends late-January (including the 2-week examination session.
Spring semester starts at the beginning of February and ends at the beginning of June (including the 2-week exam session)
School of Medicine Curriculum & Syllabus
The early exposure of students to clinical experiences emphasizes the importance of the basic sciences to its clinical application and serves to stimulate students' interests in medicine. No 'premedical' coursework is required as the program of study provides an all-inclusive, full basic sciences thematic unit.
University Accreditation
Graduates of European University Cyprus School of Medicine can exercise their profession in any country of the European Union and other international health care systems. Also, the program is taught on Campus, where the language of instruction is English.
The European University of Cyprus is recognised by the GMC. To be accepted, the GMC's requirements are: you will need to have graduated successfully in a course which contained at least 5,500 hours and lasted at least three years.
Accreditation by WFME
By ensuring the highest scientific and ethical standards in medical education, EUC School of Medicine was accredited through the rigorous standards and procedures of the World Federation for Medical Education (WFME), ensuring the following:
Chat with an Expert Now About Your Guaranteed Admission
Other Medical Universities in Cyprus