About Vasile Goldis Western University of Arad, Romania
| | | |
| --- | --- | --- |
| Country: Arad, Romania | Tuition Fees: €5000 | Living Costs: €300 |
| Courses: Medicine | Entrance exam: Yes | Graduate Entry: No |
Named after the prominent Romanian politician Vasile Goldis the university was founded in 1990 and had only two faculties at the time. Now the university is home to six faculties including Medicine and Dentistry with around 6000 students. Located in Arad, Romania; it is situated in an industrial centre with a transportation hub on the Mures River. The population is around 160,000 and is the 12th largest city in Romania. It is one of the most prolific cities in Romania with a booming economy, an extensive tram network, Arad International Airport and the largest cargo terminal in western Romania. Due to significant economic development during the 1800s Arad is becoming the fastest growing and most prosperous cities in Romania.
Being one of the more modern universities one can expect a large state of the art school with the curriculum to match. The course is 6 years and taught in English. The first three years consisting of a theory of fundamental knowledge and pre-clinical studies. The latter three years are more clinical in nature with hospital experience and surgical courses offered.
The degree is presented as a Master's Degree with the title of Physician (MD), once the course finishes and the final exam finished, and is universally recognised worldwide. This enables graduates to practice in any EU state country and outside of the EU, and of course post-Brexit; the U.K. Students who wish to study medicine in Romania often turn to Vasile Goldis University.
There's no graduate entry medicine program here but student transfers are accepted.
The university is located at Bulevardul Revoluției 94, Arad, Romania.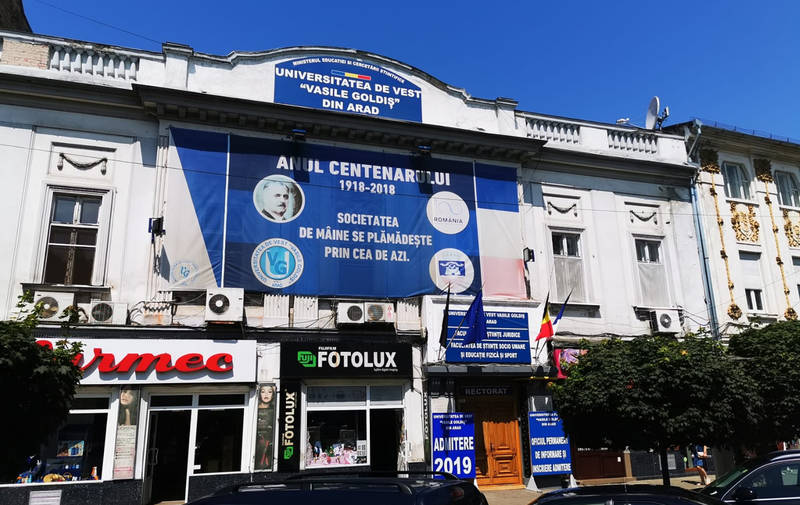 Vasile Goldis University Medicine Tuition Fees
The university teaches 6-year medicine in English and the tuition fees are €5000 per year. There are 45 seats available for EU citizens and 45 for non-EU. citizens.
Student Accommodation
Although the university offers student hostels as an accommodation option, we advise you to rent an apartment in Arad, as it is still an affordable option. Renting a flat will cost you between €150 – €200 per month. Other living expenses including free-time activities are about €300 per month.
Speaking about free time activities, the city of Arad doesn't fall short of those. The city has a vibrant nightlife and daily activities include visiting museums, art galleries, cathedrals, parks, and more.
Vasile Goldis Western University of Medicine Admission & Entry Requirements
The requirements for entry into the first year in medicine are:
Pass in Biology & Chemistry during the final three years of High School. (UK students must have Passed Biology & Chemistry at A-Level).
Pass the competitive entry test (we will help you do so).
Application Deadline: July 27th (do not leave it till the last minute to apply). However, there's a September intake in case initial seats haven't been taken earlier.
Applications must be submitted as early as possible, especially for non-EU applicants so the visa is gained before September.
We at Medlink Students specialise in maximising your chance of being admitted into medical school. We will prepare a solid file for you based on our many years of experience in this field. We also provide you with very good preparation material and sample questions to ensure that you ace the entrance exam and have a bigger advantage over other applicants.
Speak to a Graduate From Vasile Goldis Western University Now
University Accreditation
The Vasile Goldis Western University is recognised by the GMC. To be accepted, the GMC's requirements are: you will need to have graduated successfully in a course which contained at least 5,500 hours and lasted at least three years.
Chat with an Expert Now About Your Guaranteed Admission
Other Medical Universities in Romania